iPayroll Employee Kiosk - Update My Details
My Account - Update My Details
Details

Depending on the settings selected by your employer, you can update information in your Employee Kiosk
Edit your Address and Phone Number and save. Your employer will be notified that a change has been made to your information.

Contact My Employer to request they change your information such as your bank account or tax code.

Notification > select Email me when I've been paid to receive an email each pay (no payment details are contained in this email).

Change Password

Enter your current password > the new password you want and confirm your new password (with the complexity rules) > Continue


Two Factor Authentication

You can choose to enable a secondary security setting that requires an authentication app to access your information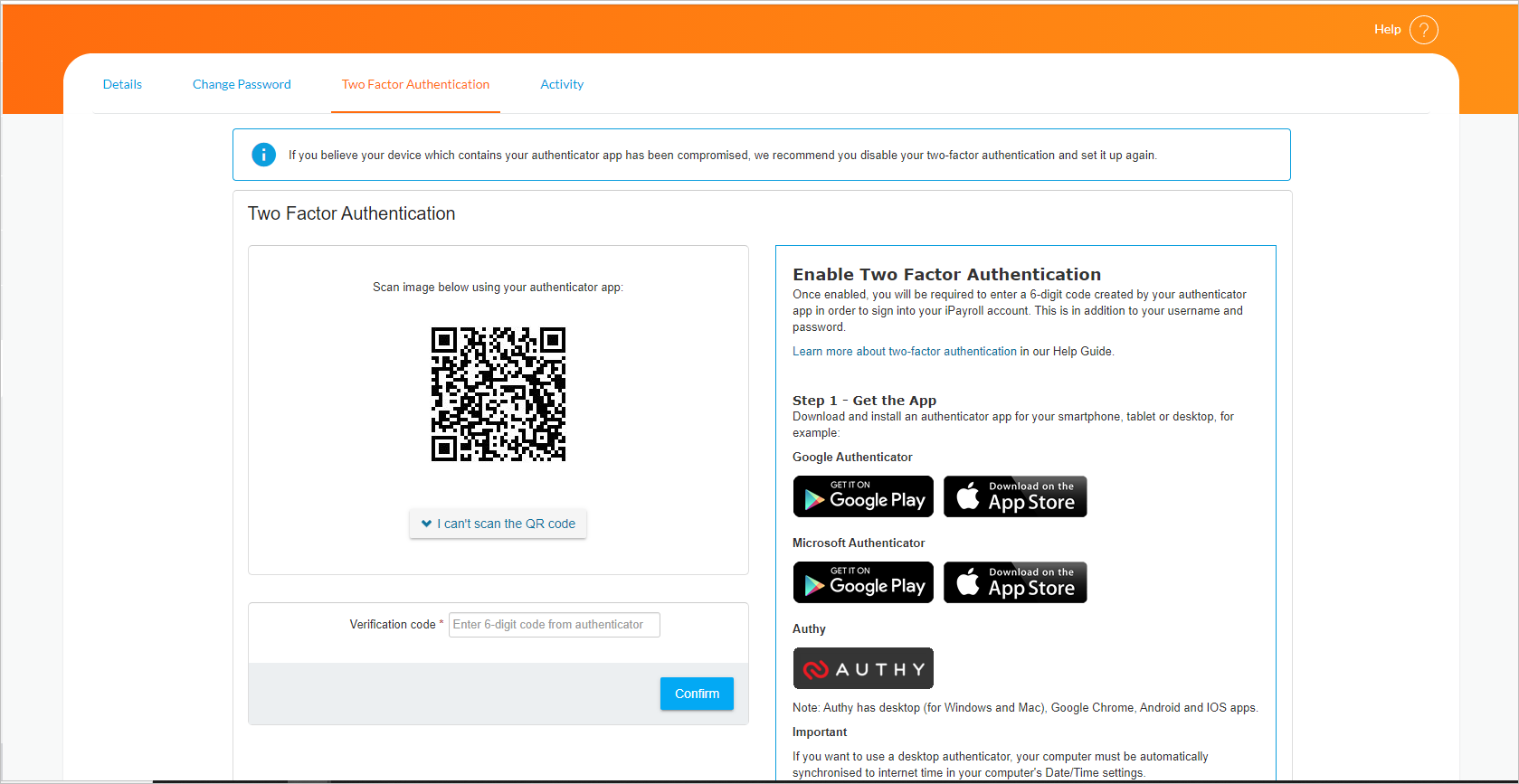 Activity

Records when you have logged on and accessed your Employee Kiosk


Related Articles

iPayroll Employee Kiosk - Reset my password

Reset your Employee Kiosk Password Your payslip information is protected by a password. If you have forgotten your password or need to change it you can do this from the iPayroll login area. You will be sent an email with instructions and a link to ...

iPayroll Employee Kiosk - Activate my kiosk

iPayroll has created an Employee Kiosk to securely hold your information. To review your payslips on the web version or download the mobile app, you first need to activate your kiosk. On your first pay day, if your employer has entered your email ...

Personal Details

The Personal Details page contains the information required to set up your employee or contractor in iPayroll. Any field with an asterisk * is a required field and you will not be able to save the information without this being completed. Enter the ...

iPayroll Employee Kiosk - Quick Guide

The iPayroll Employee Kiosk is a secure website that stores every payslip created by your employer. Once you have activated your kiosk and logged in, you will be on the Dashboard where you can easily access your latest payslip, leave balances and ...

Change iPayroll Kiosk ID

How to Change a Kiosk ID The iPayroll Kiosk gives your employee access to payslips and leave information. The email address entered on their Personal Details is used to create a user log on for your employee. This is known as the Kiosk ID. If no ...